Cultur initiates process so that El Corchito is also a 100% Free Space of Tobacco Smoke and Emissions
Lunes 11 de Septiembre de 2023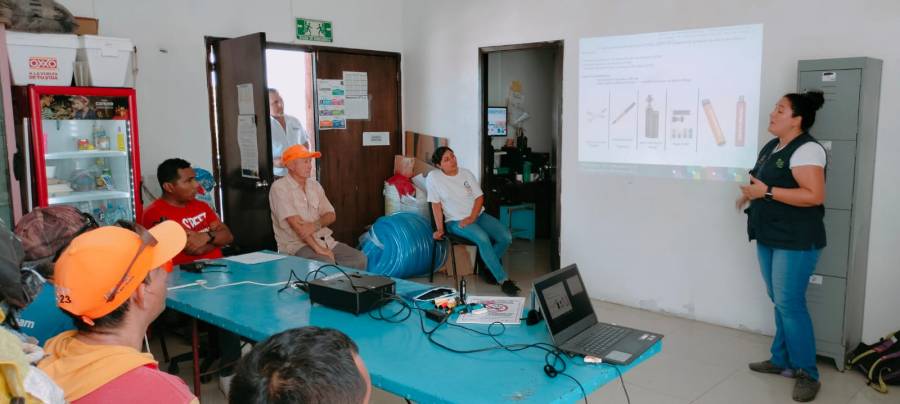 This distinction already has the XXI Century, the Parador de Chichén and the Meteorite Museum
Mérida, Yucatán, September 11, 2023. Cultur initiated the respective process to obtain from the Health Services of Yucatan (SSY) the recognition as "Space 100% Free of Tobacco Smoke and Emissions" of the parador that operates in El Corchito.
This will be the fourth distinction obtained by the agency directed by Mauricio Díaz Montalvo as a contribution to health and the environment. It should be remembered that the Yucatan Siglo XXI Convention and Exhibition Center, the tourist inn of Chichén Itzá and the Meteorite Museum, in Progreso, already have them.
The process, as already reported, began with an awareness talk, which was in charge of Shanny Cámara Canto, state responsible for the aforementioned SSY program, and which aims to raise awareness about the harmful effects caused by traditional and electronic cigarettes, or any other emitter of vapors that may affect their own health and that of third parties.
The idea is that, once the building is declared 100% Smoke-Free and Emission-Free, workers will become vigilantes to urge people caught smoking or vaping not to do so.
As Díaz Montalvo has pointed out, the idea is to continue advancing in the service units that are under his responsibility with these actions to give tourism spaces added value and more security for health.
During the talk with the workers of El Corchito, the representative of the SSY emphasized that there is a false belief that it is good to opt for electronic cigarettes to leave conventional ones, which is wrong, since both are equally harmful.
He added that several studies have reported that electronic cigarettes or vapes have significant levels of metals, such as cadmium, nickel, copper, tin, lead and aluminum; also carbonyl compounds, such as formaldehyde, acetaldehyde and acrolein, as well as volatile organic compounds.
The next steps
To continue with this process, soon, Cultur will install several signs at strategic points of the parador where it is indicated that El Corchito is a 100% Free Space of Tobacco Smoke and Emissions and they are prevented from avoiding smoking or vaping.
Then the Fourth Colillatón will be carried out, which will consist of cleaning all buildings and their surroundings of cigarette butts and finally, after a visit by the health authorities to confirm that everything is in order, recognition will be granted.
Cigarette butts with a healthy ending: One more work of art
It should be remembered that the cigarette butts that are collected will have a healthy end: they will be decontaminated and with them a work of art will be made that consists of a painting of the parador and the reserve.